Pet Wellness Plans
Keeping your best friend in good health is a commitment of the heart. One we know you take seriously. We also know that it can be financially demanding, especially during tough economic times.
Pet Samaritan has developed a simple pet health care plan to help minimize your cost. There are no tests, no examinations, no complicated forms, and no long list of deductibles and exclusions. Enroll
How Our Plan Works
Your premium is paid only once a year. The premium is based on the age of your pet. When your pet requires care, the normal costs are totaled. You pay only the amount less your scheduled discount.
Treatment and Services Covered
*This plan covers only one full set of vaccines per membership premium
Payment of Services
Accounts must be paid in full at the time of the service or discharge, a 50% deposit is required prior to hospitalization. If proper payment cannot be made at the time of service, eligibility will not be valid. Premiums are not refundable.
Exclusions
Emergency or veterinary care other than that at our facilities
Veterinary or emergency care performed by non-staff members and facilities (please ask for further details)
Elective Rattlesnake, Giardia, Corona, Lyme vaccines
Current illness or injury
Cosmetic surgery
Boarding
Allergy testing and treatment sets
Radiology consultations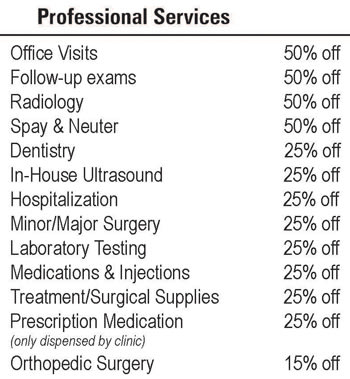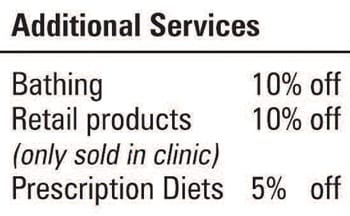 Schedule a Wellness Plan Visit