Our Veterinarians
At the Pet Samaritan Clinic our veterinarians and professional staff make all the difference to your pets' health care. Everyone with whom you and your pet come into contact is dedicated to providing compassionate care and skilled services. Our veterinarians and professional staff make all the difference to your pets' health care. Everyone with whom you and your pet come into contact is dedicated to providing compassionate care and skilled services.
Experienced Veterinarians– At Pet Samaritan Clinic, you will see our veterinarians have many years of experience treating animals. They keep their medical knowledge current by attending continual education courses and seminars multiple times per year.
Concerned Understanding– Pet Samaritan Clinic veterinarians take into consideration all the factors that can affect pet health, including exercise, diet, travel, pre-existing disease, grooming, and the presence of other animals in the household.
Licensed technicians and assistants– Our licensed technicians and trained staff are here to assist you and your pet at any time. Whether it is medically or just to offer a comforting hello when you and your pet walk in. We are here.
Receptionists– Our kind and compassionate reception team is always here to give you the best advice about booking your appointment and getting your questions answered quickly. They are always ready to greet you and your pet with a smile. Our experienced receptionists will handle all your customer service needs.
Dr. Janet Ewing
Dr. Janet Ewing graduated from Colorado State University in 1990. She owned and operated her own veterinary practice in Arvada Colorado called The Menagerie Veterinary Hospital from 1997 to 2004. After that she moved to Albuquerque New Mexico and worked at The New Mexico Emergency and Surgical Veterinary Center from 2004-2006. Dr. Ewing finally settled into the Pacific Northwest as the Emergency Veterinary Director at Dove Lewis Emergency Animal Hospital from 2006-2008. After that she worked at Barber Blvd. Veterinary Clinic and Cardiology Northwest until joining our team at Pet Samaritan Clinic in 2012. In 2018 Dr. Ewing became the Medical Director of Pet Samaritan. Dr. Ewing has 7 children, 2 grandchildren, and her two beloved dogs Jack and Delilah.
Dr. Sue Erickson
Dr. Sue Erickson is a Long Island, New York native who joined Pet Samaritan Clinic permanently in 1995. In 2004 she became Managing Veterinarian at Pet Samaritan, a position she has held until 2018. Dr. Erickson is currently enjoying her semi retirement, she works at the clinic on Saturdays. Her special area of interest is internal medicine of cats and dogs. Dr. Erickson graduated from Oregon State University in 1986 and worked as a veterinarian in San Diego, CA for 8 years before coming to Oregon. Prior to that , she had a career in marine mammal research at the University of Alaska, Fairbanks, where she obtained a Ph.D. and did postdoctoral work through the National Science Foundation with harbor and spotted seals.
Dr. Erickson enjoys her four cats, traveling, gardening, and making jewelry. She considers the staff at Pet Samaritan her extended family, many of whom she has had the pleasure of working with for over 10 years.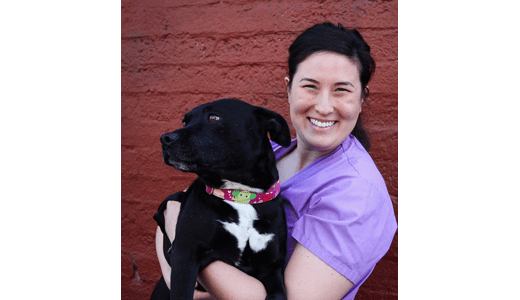 Dr. Elizabeth Measday
Dr. Measday graduated from Texas A&M Veterinary School in 2016. Her interest in helping animals started at a very young age and has only grown since then. She has worked with animals in many different settings from volunteering at animal control (where she got Emma), to being a veterinary technician for 2 years before she began veterinary school. She also was an animal caretaker for cats, horses, sheep and pigs at an animal sanctuary in Wyoming in 2010. In both 2013 and 2014, she spent a month assisting at an Asian elephant sanctuary in Northern Thailand. There she worked alongside their veterinarians to care for the resident elephants.
At Veterinary School, she was heavily involved with the Shelter Vets club- a club that focused on veterinary care in the animal shelter environment.During her free time she likes to garden, cook, read, and enjoy the outdoors.
At home, she has two dogs, Emma, a pitbull mix, and Mr. Darcy, a lab mix. She also has two cats Max and Jerry.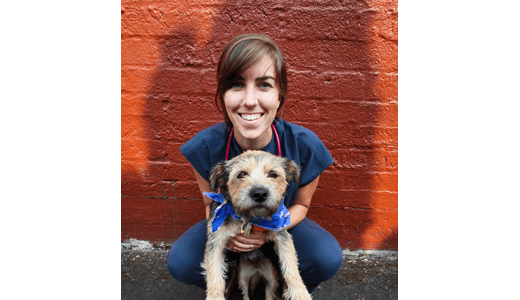 Dr. Laura Mulshine
Dr. Laura Mulshine was born and raised in Bethesda, Maryland. She came to the Pacific Northwest for her undergraduate degree at Reed College. She joined the team at Pet Samaritan in 2018 after living in New Zealand for 8 years. While in New Zealand, Dr. Mulshine completed her veterinary degree at Massey University. In addition to a degree, she picked up a Kiwi husband, some amazing photographs, and a love of snowboarding. Following vet school, Dr. Mulshine worked in rural New Zealand as a mixed practitioner. While she loved working with all types of animals, her calling for small animals was clear. When it was time to return to the USA, Oregon was an easy choice. After a stint working in Sandy Dr. Mulshine is excited be back on the east side and cannot wait meet you and your furry family.