Our Veterinarians
At the Pet Samaritan Clinic our veterinarians and professional staff make all the difference to your pets' health care. Everyone with whom you and your pet come into contact is dedicated to providing compassionate care and skilled services. Our veterinarians and professional staff make all the difference to your pets' health care. Everyone with whom you and your pet come into contact is dedicated to providing compassionate care and skilled services.
Experienced Veterinarians– At Pet Samaritan Clinic, you will see our veterinarians have many years of experience treating animals. They keep their medical knowledge current by attending continual education courses and seminars multiple times per year.
Concerned Understanding– Pet Samaritan Clinic veterinarians take into consideration all the factors that can affect pet health, including exercise, diet, travel, pre-existing disease, grooming, and the presence of other animals in the household.
Licensed technicians and assistants– Our licensed technicians and trained staff are here to assist you and your pet at any time. Whether it is medically or just to offer a comforting hello when you and your pet walk in. We are here.
Receptionists– Our kind and compassionate reception team is always here to give you the best advice about booking your appointment and getting your questions answered quickly. They are always ready to greet you and your pet with a smile. Our experienced receptionists will handle all your customer service needs.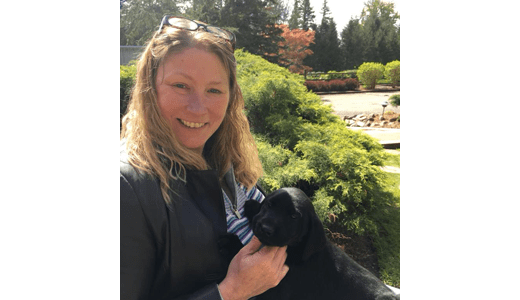 Dr. Julie Kennedy - Managing DVM
Dr. Julie Kennedy graduated from Oregon State University in 1994. She came to work at Pet Samaritan for the first time from from 1995 - 2003 (some of you might remember her as Dr. Kruse part of that time). She was mentored by our beloved Dr. Patricia Huff. Since then she has owned, built up and sold two thriving veterinary practices. She is a skilled doctor and managing veterinarian. She loves to mentor new doctors and assist them in becoming the best veterinarians they can be. Dr. Kennedy has a great love for animal dentistry, surgery and geriatric care. She not only provides medical care to dogs and cats, but she has a special interest in small mammals and birds.
Dr. Kennedy is mom to a beautiful daughter who graduated early from high school and is now enjoying college. She enjoys helping to raise her two stepchildren with her significant other. At home they have a busy Labrador puppy and two mellow cats. In her time off she loves camping, boating, yard renovations, spending time with her family, reading, listening to country music and 80's hair bands!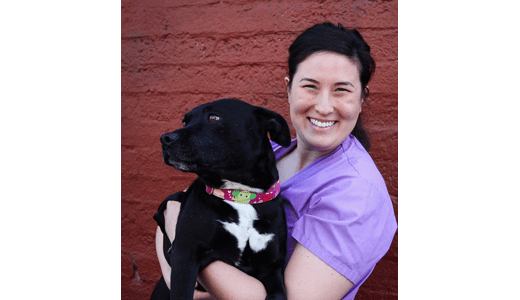 Dr. Elizabeth Measday
Dr. Measday graduated from Texas A&M Veterinary School in 2016. Her interest in helping animals started at a very young age and has only grown since then. She has worked with animals in many different settings from volunteering at animal control (where she got Emma), to being a veterinary technician for 2 years before she began veterinary school. She also was an animal caretaker for cats, horses, sheep and pigs at an animal sanctuary in Wyoming in 2010. In both 2013 and 2014, she spent a month assisting at an Asian elephant sanctuary in Northern Thailand. There she worked alongside their veterinarians to care for the resident elephants.
At Veterinary School, she was heavily involved with the Shelter Vets club- a club that focused on veterinary care in the animal shelter environment.During her free time she likes to garden, cook, read, and enjoy the outdoors.
At home, she has two dogs, Emma, a pitbull mix, and Mr. Darcy, a lab mix. She also has two cats Max and Jerry.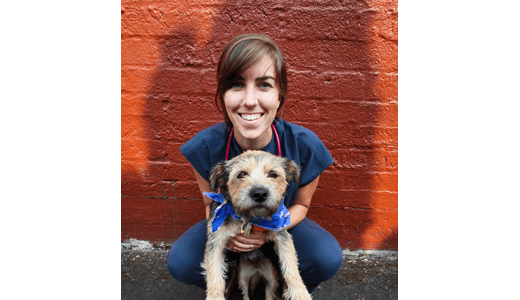 Dr. Laura Mulshine
Dr. Laura Mulshine was born and raised in Bethesda, Maryland. She came to the Pacific Northwest for her undergraduate degree at Reed College. She joined the team at Pet Samaritan in 2018 after living in New Zealand for 8 years. While in New Zealand, Dr. Mulshine completed her veterinary degree at Massey University. In addition to a degree, she picked up a Kiwi husband, some amazing photographs, and a love of snowboarding. Following vet school, Dr. Mulshine worked in rural New Zealand as a mixed practitioner. While she loved working with all types of animals, her calling in small animal medicine was clear. When it was time to return to the USA, Oregon was an easy choice. After a stint working in Sandy Oregon Dr. Mulshine is excited be back on the east side and cannot wait meet you and your furry family.
Dr. Mulshine loves to spend time with her veterinarian husband and their two pets. They have a cat named Flea and a terrier mix rescue dog named Squid. Dr. Mulshine also loves to volunteer her time with the local Non-profit PAW Team, helping provide veterinary care to Portland's low income and homeless community through their local clinic.
Dr. Cynthia Sorrick
Dr. Cynthia Sorrick grew up in California and moved to Colorado to earn her undergraduate degree in Biology at Colorado College. Along the way she worked with animals in a wide variety of ways from riding horses to studying wildlife ecology in Tanzania. She also developed a strong passion for the outdoors and conservation.
After college she lived in Iowa for 6 years where she earned her doctor of veterinary medicine degree at Iowa State University. Upon graduating in 2015, she left the midwest for California to complete an internship in general practice and emergency medicine, after which she remained to work in the San Diego county for the next several years. While living in San Diego, Dr. Sorrick renewed her passion for outdoor pursuits, including international trips to climb in Europe, Canada, and Mexico. She also acquired an abandoned kitten named "Oofta", who came home with her one night and never left!
Dr. Sorrick is excited for new adventures exploring Portland and the mountainous Pacific Northwest. Most importantly, she looks forward to meeting you and caring for all of your fur family starting this May!